Madagascar News

Millipedes might soothe itchy lemurs, research finds [08/13/2018]
- Scientists have observed red-fronted lemurs in Madagascar biting millipedes and then rubbing themselves with the secretions.
- A team of researchers published their observations in the journal Primates, along with their hypothesis that the lemurs were using the millipede secretions to treat worm infections.
- The study's lead author also observed lemurs eating the millipedes, which may slow the growth of parasites living in the primates' intestines.


Madagascar proposes paying illegal loggers to audit or buy their rosewood [08/08/2018]
- In June, the World Bank facilitated a workshop to discuss what Madagascar should do with its stockpiles of illegally logged rosewood.
- Madagascar has been grappling with the question for years, but has been unable to make a proper inventory of the stockpiled wood or control illegal exports.
- The rosewood could be worth hundreds of millions of dollars on the international market, but the country cannot sell it until it shows progress in enforcing its own environmental laws.
- At the workshop, Madagascar's government proposed a radical solution: paying loggers for access to their illicit stockpiles in order to keep tabs on the wood, or even buying the wood back from them directly.


95 percent of all lemur species face high risk of extinction, experts say [08/02/2018]
- More than 50 experts in primate conservation from around the world recently convened in Antananarivo to review the conservation status of the 111 species and subspecies of lemurs, all endemic to Madagascar, and provide updated threat assessments for the IUCN Red List.
- They found that 105 lemurs — 95 percent of all known lemur species and subspecies — might qualify as critically endangered, endangered, or vulnerable to extinction in the wild.
- The updated assessments produced by the IUCN Species Survival Commission Primate Specialist Group must still undergo a review process before they are fully validated, but the group's findings would increase the number of lemurs listed as critically endangered on the IUCN Red List from 24 to 38.


Forest communities pay the price for conservation in Madagascar [07/25/2018]
- In a two-year investigation of a REDD+ pilot project, a team of researchers spoke with more than 450 households affected by the establishment of a large protected area called the Ankeniheny-Zahamena Corridor, a 3,820-square-kilometer (1,475-square-mile) tract of rainforest in eastern Madagascar.
- The REDD+ project, supported by Conservation International and the World Bank, was aimed at supporting communities by providing support for alternative livelihoods to those communities near the Ankeniheny-Zahamena Corridor protected area.
- They found that the REDD+ project's preliminary studies identified less than half of those negatively affected by the Corridor's designation.
- The team also discovered that the value of the one-off compensation, in the form of support to pursue other livelihoods, fell far short of the opportunity costs that the communities are likely to face as a result of losing access to the forest in the coming decades.


Angry farmers set fire to offices of Madagascar eco group, gov't agency [07/13/2018]
- Large swaths of forest inside northwestern Madagascar's Bongolava Forest Corridor, a protected area, have been burned to make way for commercial corn farming, raising the fortunes of many residents accustomed to living on the edge of subsistence.
- Last month, angry farmers armed with sticks and machetes stormed into the northwestern city of Boriziny, also known as Port–Bergé, to demand the release of people arrested for illegally clearing farmland inside the protected area.
- The group destroyed the offices of the local nonprofit that manages the protected area and set fire to the building it shares with an outpost of the environment ministry, as well as to the homes of the group's coordinator and the government administrator for the area.
- The episode highlights the difficulty of achieving meaningful conservation in an area where the populace largely views ecological goals as conflicting with an important source of income.


Madagascar's native fauna defenseless against toxic invasive toads [07/13/2018]
- Toxic Asian common toads (Duttaphrynus melanostictus) have spread rapidly around the port city of Toamasina on Madagascar's east coast, raising concerns that the invasive amphibians could take a severe toll on the island's unique wildlife species.
- A recent paper vindicates those concerns: through a genetic analysis of 77 endemic species, scientists found that just one demonstrated clear resistance to toad toxins.
- A separate estimate published last month suggests there are now over 7 million Asian common toads in Madagascar. Reports suggest they arrived accidentally with mine construction equipment prior to 2010.


Uncertainty around Madagascar mine in wake of cyclone [06/27/2018]
- The Ambatovy mine complex near Madagascar's eastern city of Toamasina is a massive operation to extract nickel and cobalt from the country's rich soil.
- The $8 billion complex represents the largest-ever foreign investment in the country.
- Over the years, local residents have suspected the mine of causing environmental and health problems, including air and water pollution.
- Locals now fear that Tropical Cyclone Ava, which hit Toamasina hard in January, may have exacerbated these problems — fears that Ambatovy and local officials assert are unfounded.


For Madagascar's park managers, the science literature is out of reach [06/26/2018]
- The park directors and conservation managers responsible for managing Madagascar's protected areas tend not to rely on scientific research to make on-the-ground decisions, opting instead for experience and advice from others, a new study has found.
- Several managers, for instance, felt there was "limited research of relevance to them and their needs."
- Others complained that even when relevant research was carried out, researchers often did not share the results with them.
- Overall, Madagascar's protected area managers need better access to research, and more relevant research, to help them manage the country's parks more efficiently and effectively, the study's authors write.


Madagascar: Yet another anti-trafficking activist convicted [06/19/2018]
- Christopher Magnenjika, an activist working to stem corruption and wildlife trafficking in northeastern Madagascar, was tried, convicted, fined $9 and released earlier this month.
- The charges against Magnenjika include "rebellion" and insulting local officials.
- Magnenjika's supporters say his arrest and conviction were a pretext for keeping him quiet about the illicit trade in rosewood, a valuable tropical hardwood.
- Magnenjika is one of at least ten Malagasy activists who have faced imprisonment in recent years.


One tortoise at a time: Q&A with zoo veterinarian Justin Rosenberg [06/19/2018]
- In April, authorities discovered around 10,000 radiated tortoises, believed to be destined for the Asian pet trade, in an abandoned house in southwestern Madagascar.
- The Turtle Survival Alliance (TSA) took the animals to its rescue center in Ifaty, and soon, veterinarians and keepers from around the world began traveling to Madagascar to help the animals.
- Currently, between 9,000 and 10,000 tortoises are alive, with around 100 still in need of critical care.
- Mongabay spoke with a veterinarian who spent several weeks at TSA's facility about the ongoing efforts.


Primate-rich countries are becoming less hospitable places for monkeys, apes and lemurs [06/15/2018]
- New research shows that many of the 65 percent of the world's primate species found in four countries — Brazil, Indonesia, Madagascar and the Democratic Republic of Congo — face the threat of extinction.
- The scientists involved in the study used maps of primate ranges and information on the threats they face to predict what might happen to the animals through the end of the 21st century.
- They found that increases in the amount of land turned over for human food production could cause the primate habitats to shrink substantially in these countries.
- However, the team also found that intensive conservation measures could dramatically reduce the loss of primate habitat by 2100 and potentially avert the mass extinction of these species.


Madagascar court upholds sentence for environmental activist [05/31/2018]
- In September 2017 a farmer named Raleva questioned a mining company about its permits during a meeting in his village in southeastern Madagascar. He was promptly arrested on charges of impersonating a local official.
- In October, he was convicted and sentenced to two years in prison, but immediately released on parole — a common tactic in Madagascar that appears to be aimed at silencing opposition.
- On May 22, an appeals court announced its decision to uphold the conviction.
- Advocacy groups are now trying to put together a legal team that can take the case to Madagascar's Supreme Court.


Lessons for developing countries in expansion of Madagascar's protected area network [05/21/2018]
- Between 2003 and 2016, protected area coverage in Madagascar was quadrupled, from 1.7 to 7.1 million hectares. Whereas most protected areas (PAs) established in Madagascar prior to 2003 were managed solely by the Malagasy government, post-2003 PAs adopted a variety of new management and governance systems.
- The aggressive growth of Madagascar's PA system and the diversity of approaches employed make for a particularly poignant case study, according to the authors of a recent paper published in the journal Biological Conservation that looks at what other developed countries can take away from Madagascar's experience.
- The researchers hope that the successes achieved and the challenges identified via their examination of Madagascar's efforts to expand its PA system might help inform how global protected area coverage continues to expand.


'Rainbow' chameleon among three new species described from Madagascar [05/16/2018]
- Researchers discovered the brilliantly colored rainbow chameleon, now named Calumma uetzi, during an expedition to the remote Sorata massif in northern Madagascar in 2012.
- Over surveys between 2015 and 2016, the researchers found another new species of chameleon, now dubbed Calumma juliae, in a 15-square-kilometer patch of forest. The researchers were unable to find any males of this species.
- They also found only a single male specimen of the third new chameleon species, Calumma lefona, spotted in Andrevorevo in northern Madagascar.


Sifaka lemurs listed as "critically endangered" amid mysterious die-off [05/15/2018]
- In the last month and a half, at least 31 Verreaux's sifakas (Propithecus verreauxi) have died in Berenty Reserve near Madagascar's southern tip.
- It's one of the largest lemur die-offs scientists can remember.
- Experts believe that a parasite or tick-borne disease is likely to blame, but the exact cause remains unknown.
- At a large IUCN meeting held last week in Antananarivo, Madagascar's capital, primate specialists decided to uplist all nine sifaka species from endangered to critically endangered.


'Monumental' bust in Madagascar triggers effort to save thousands of endangered tortoises [04/25/2018]
- Authorities discovered 9,888 starving and dehydrated radiated tortoises in a vacant house in southwestern Madagascar on April 10.
- Since then, a team of organizations led by the Turtle Survival Alliance has been working to provide care for the critically endangered tortoises, 574 of which died during the first week.
- The tortoises, endemic to Madagascar, have lost around 40 percent of their habitat to deforestation, and poachers commonly capture them for the pet trade in Asia and the United States.


More than 40 percent of Madagascar's freshwater life sliding toward extinction, IUCN finds [03/22/2018]
- In an assessment of 653 freshwater plant and animal species living on Madagascar and nearby islands, biologists found that 43 percent are threatened with extinction or there isn't enough information to assess how well they're doing.
- Nearly 80 percent of endemic plants examined in the study face extinction.
- The team lists unsustainable farming practices, deforestation, dam construction, mining and the overuse of natural resources, such as overfishing, as causes for the widespread declines.


Madagascar: Conservation official arrested for killing 11 endangered lemurs [03/16/2018]
- Two weeks ago, the bodies of 11 critically endangered lemurs were discovered in the Zahamena Ankeniheny Corridor protected area in eastern Madagascar.
- The lemurs were allegedly killed by one of the local officials charged with protecting them, to the dismay of conservation leaders.
- The alleged poacher was arrested on Feb. 27, and this week the police set out to arrest his suspected accomplices.
- The Madagascar government reacted to the poaching incident at the highest level, including pledges by the prime minister and minister of the environment to crack down on poaching.


Will Madagascar's industrial shrimp trawlers make way for local fishers? [03/14/2018]
- Shrimp is one of Madagascar's most lucrative exports.
- But local fishers and environmental groups say shrimp trawlers are harming the country's marine environment and leaving too few fish in the sea for the fishing communities that depend on them.
- Until now, relatively little has been done to address the issue.
- But there are small signs that may be starting to change, with fishing communities raising their voices to press for exclusive access to Madagascar's coastal waters.


DJ and ornithologists create wildlife music game [02/21/2018]
- Wildlife DJ Ben Mirin has teamed up with the Cornell Lab of Ornithology and the Cornell Hip Hop Collection on a new online game that uses wildlife recordings.
- Players take sound recordings of wild creatures and transform them into loops, creating a wide variety of song clips. Players also learn about the animals and the habitats they live in.
- Mirin was also a guest on Mongabay's podcast in 2017.



Notifications

Get notifications on conservation and environmental issues in Madagascar. Subscribe for free.

Overviews - by language

Arabic
Chinese-simplified
Chinese-traditional
Croatian
Czech
English
Farsi
French (expanded)
German
Greek
Hindi
Indonesian
Japanese
Italian
Malagasy (rainforests)
Malay
Portuguese
Portuguese (Brazil)
Romanian
Russian
Spanish
Slovak
Ukrainian

Key pages

About Madagascar
Maps
FAQs
People
History
Flora
Wildlife
Birds
Fish
Frogs
Invertebrates
Lemurs
Mammals
Reptiles
Environment
Conservation
ANGAP
Parks
Educational
Media resources
Store
Madagascar Travel
About the site
How to help
Links
Contact



Photos



Lemurs

Frogs

Insects

Reptiles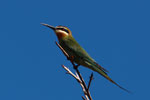 Birds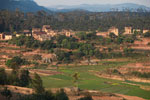 Villages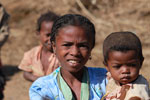 People

Landscapes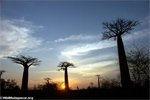 Flora
Other useful resources