Madagascar News
Amphibian pandemic may have hit Madagascar, hundreds of species at risk of infection
(04/11/2014) Madagascar is one of the world's hotspots for amphibian diversity, home to so many frog species that many of them don't even have names. But soon the island may also harbor a fungus causing drastic declines – even extinctions – of frogs around the world. Ironically, the wildlife trade that's often blamed for helping spread the disease may also give scientists a chance to prevent it.


Madagascar lemurs share spotlight with primatologist in new IMAX film
(04/03/2014) Tomorrow's opening of the IMAX film Island of Lemurs: Madagascar showcases not only endangered primates, but one of Madagascar's top conservationists: primatologist Patricia C. Wright.



Panda lemur making a comeback
(03/20/2014) One of the world's biggest populations of greater bamboo lemurs (Prolemur simus)—sometimes known as the panda lemur—has doubled in just three years, giving conservationists new hope that the species can be kept from extinction. With the recent arrival of twenty babies, a community conservation project run by the Aspinall Foundation has boosted the local population to over 100 individuals in Andriantantely, one of Madagascar's only surviving lowland rainforests. Greater bamboo lemurs are currently categorized as Critically Endangered, though they were once believed extinct until hidden populations were uncovered in the 1980s.



The lemur end-game: scientists propose ambitious plan to save the world's most imperiled mammal family
(02/20/2014) Due to the wonderful idiosyncrasies of evolution, there is one country on Earth that houses 20 percent of the world's primates. More astounding still, every single one of these primates—an entire distinct family in fact—are found no-where else. The country is, of course, Madagascar and the primates in question are, of course, lemurs. But the far-flung island of Madagascar, once a safe haven for wild evolutionary experiments, has become an ecological nightmare. Overpopulation, deep poverty, political instability, slash-and-burn agriculture, illegal logging for lucrative woods, and a booming bushmeat trade has placed 94 percent of the world's lemurs under threat of extinction, making this the most imperiled mammal group on the planet. But, in order to stem a rapid march toward extinction, conservationists today publicized an emergency three year plan to safeguard 30 important lemur forests in the journal Science.


Microsoft buys Madagascar carbon credits
(02/15/2014) Technology giant Microsoft has bought the first carbon credits generated under a rainforest conservation project in Madagascar, reports Wildlife Conservation Society (WCS), which organized and backed the initiative.


Madagascar's new president pledges to fight illegal logging
(02/07/2014) Madagascar's newly elected president Hery Rajaonarimampianina pledged to 'lead the fight' against illegal rosewood logging in the impoverished island nation.


NASA data reveals impact of cyclones on forests in Vietnam, Madagascar
(01/30/2014) Forest disturbance in Madagascar and Vietnam increased significantly in the aftermath of cyclones that hit the countries last year, according to a forest tracking tool developed by a team of NASA researchers.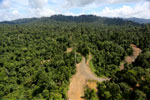 Rainforest news review for 2013
(12/26/2013) 2013 was full of major developments in efforts to understand and protect the world's tropical rainforests. The following is a review of some of the major tropical forest-related news stories for the year. As a review, this post will not cover everything that transpired during 2013 in the world of tropical forests. Please feel free to highlight anything this post missed via the comments section at the bottom. Also please note that this review focuses only on tropical forests.


Conservation Hail Mary works: Mate for near-extinct fish found!
(12/20/2013) Researchers are celebrating after an urgent global search turned up a female mate for a fish that is on the brink of extinction.



Madagascar's most famous lemur facing big threats
(12/18/2013) The ring-tailed lemur (Lemur catta), perhaps the most well-known of Madagascar's endemic animals, is facing a "very high" risk of extinction in the wild. The Madagascar Section of the IUCN Primate Specialist Group reassessed the Red List status of ring-tailed lemurs and upgraded the species from Near-Threatened (2008) to Endangered (2012). Ring-tailed lemurs are facing extinction in some parts of Madagascar because of continued habitat loss, and more recently, species exploitation.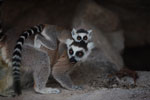 Like ancient humans, some lemurs slumber in caves
(12/05/2013) After playing, feeding, and socializing in trees all day, some ring-tailed lemurs (Lemur catta) take their nightly respite in caves, according to a new study in Madagascar Conservation and Development. The findings are important because this is the first time scientists have ever recorded primates regularly using caves (see video below).


Timber smuggling continues in Madagascar
(11/18/2013) Stocks of rosewood illegally harvested during in the aftermath of Madagascar's 2009 coup are being steadily smuggled off the Indian Ocean island, reports a paper published in the journal MADAGASCAR CONSERVATION & DEVELOPMENT.



Scientists identify 137 protected areas most important for preserving biodiversity
(11/14/2013) Want to save the world's biodiversity from mass extinction? Then make certain to safeguard the 74 sites identified today in a new study in Science. Evaluating 173,000 terrestrial protected areas, scientists pulled out the most important ones for global biodiversity based on the number of threatened mammals, birds, and amphibians found in the parks. In all they identified 137 protected areas (spread over 74 sites as many protected areas were in the same region) in 34 countries as 'irreplaceable.'


Bolivia, Madagascar, China see jump in forest loss
(11/01/2013) Loss of forest cover increased sharply in Bolivia, Madagascar, and Ecuador during the third quarter of 2013, according to an update from NASA scientists.


Sonar used by oil company caused mass whale stranding in Madagascar
(09/25/2013) An oil company's use of a high-frequency mapping sonar system was responsible for a mass whale stranding in northwest Madagascar in 2008, finds a new report.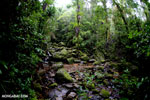 Credits from first African government-backed REDD+ project go on sale
(09/17/2013) Carbon credits generated from protecting thousands of hectares of endangered rainforest in northeastern Madagascar have now been certified for sale, reports the Wildlife Conservation Society (WCS), the project's main organizer. The development represents the first time that credits generated by African government-owned project have been put on the voluntary carbon market.


Scientists outline how to save nearly 70 percent of the world's plant species
(09/05/2013) In 2010 the Convention on Biological Diversity (CBD) pledged to set aside 17 percent of the world's land as protected areas in addition to protecting 60 percent of the world's plant species—through the Global Strategy for Plant Conservation (GSPC)—by 2020. Now a new study in Science finds that the world can achieve both ambitious goals at the same time—if only we protect the right places. Looking at data on over 100,000 flower plants, scientists determined that protecting 17 percent of the world's land (focusing on priority plant areas) would conserve 67 percent of the world's plants.



The evolution of cooperation: communal nests are best for ruffed lemurs
(08/21/2013) Raising young lemurs in communal crèches benefits both mothers and offspring, a new study has found. Andrea Baden and colleagues, of Yale University, studied a group of black-and-white ruffed lemurs (Varecia variegata) in Ranomafana National Park, Madagascar. This is the first study to examine the consequences of different parenting strategies in the ruffed lemur.


Deforestation alerts for Madagascar, DRC, Bolivia during Q2-2013
(08/16/2013) Loss of forest, woodland, and savanna increased sharply in Madagascar, the Democratic Republic of the Congo (DRC), and Bolivia during the second quarter of 2013, reports a new assessment by NASA scientists.


Scientists map plan to save lemurs
(08/14/2013) Primatologists and researchers have devised a wide-ranging plan to protect Madagascar's most endangered lemurs from extinction.


more

Overviews - by language

Arabic
Chinese-simplified
Chinese-traditional
Croatian
Czech
English
Farsi
French (expanded)
German
Greek
Hindi
Indonesian
Japanese
Italian
Malagasy (rainforests)
Malay
Portuguese
Portuguese (Brazil)
Romanian
Russian
Spanish
Slovak
Ukrainian

Key pages

About Madagascar
Maps
FAQs
People
History
Flora
Wildlife
Birds
Fish
Frogs
Invertebrates
Lemurs
Mammals
Reptiles
Environment
Conservation
ANGAP
Parks
Educational
Media resources
Store
Madagascar Travel
About the site
How to help
Links
Contact



Photos



Lemurs

Frogs

Insects

Reptiles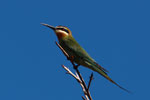 Birds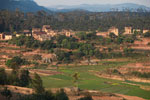 Villages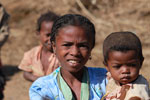 People

Landscapes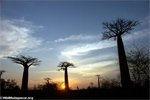 Flora
Other useful resources