Madagascar News

Science community rallies support to save Madagascar's natural riches [06/24/2019]
- Madagascar is set to host the Association of Tropical Biology and Conservation's 56th annual meeting in July.
- The organizers have launched a petition to garner support for urgent actions that must be taken to preserve the island nation's unique biodiversity.
- The petition will be presented to the country's president, who has been invited to sign it and recognize it as the Declaration of Ivato, after the site where the meeting will take place.
- The document, available in four languages, can be accessed online until Aug. 2.


The mine that promised to protect the environment: A cautionary tale [06/21/2019]
- In 2004, mining behemoth Rio Tinto made a bold commitment not just to protect but to "improve" the environment at its mining sites in ecologically sensitive areas around the world, through a strategy it called "net positive impact."
- A site in southeastern Madagascar where it was opening an ilmenite mine amid a gravely threatened coastal forest that's home to unique species found nowhere else on the planet seemed like a good place to start.
- A little more than a decade later, however, the initiative was dead: facing financial headwinds and falling behind on its pledges, Rio Tinto abandoned the NPI strategy in 2016.
- In an article in the July issue of Scientific American, Mongabay contributor Rowan Moore Gerety tells how Rio Tinto came to make that promise and then to renege on it — and describes the result for Madagascar's coastal forest and the people who live there.


A four-year ox-cart ride around Madagascar: Q&A with Alexandre Poussin [06/20/2019]
- Alexandre Poussin and his family recently completed a 5,000-kilometer (3,100-mile) oxcart ride around Madagascar, visiting sanctuaries for the island's unique biodiversity that are off the beaten path.
- Poussin witnessed firsthand the destruction of Madagascar's forests and the threat faced by endemic species found there.
- The French traveler and writer is encouraging tourists to the island to help protect its natural heritage.


Deforested areas bleed heat to nearby forests, drive local extinctions [06/17/2019]
- Forests play an important role in cooling the Earth.
- Deforestation doesn't just contribute to temperature increases where it occurs but also in adjacent forests, according to a new study.
- This leaking of heat into adjacent forests puts species living there at risk by pushing up temperatures that are already rising due to climate change.
- This is bad news for countries like Madagascar, which not only hosts many endemic species with limited habitat, but also has alarming rates of deforestation.


Lemur yoga: Fueling the capture of wild lemurs? (commentary) [06/03/2019]
- In April, the BBC published a fawning article about an English hotel that is offering lemur yoga classes featuring endangered ring-tailed lemurs. Knowing full well that this media coverage would negatively impact lemurs living in the wild, we contacted the BBC, hoping to mitigate the damage.
- In today's digital age, every lemur kept in captivity, either in Madagascar or abroad, is fueling — directly and indirectly — the illegal extraction of lemurs from the wild.
- Not a week goes by without more news of the precipitous decline of Madagascar's biodiversity. And while it will take tens of millions of dollars to protect what is left, refusing to engage in exploitative encounters and sharing your lemur selfie online is a good place to start.
- This post is a commentary. The views expressed are those of the author, not necessarily Mongabay.


A Malagasy community races the timber mafia to save its forest [05/10/2019]
- The Vohibola forest is one of the last remaining primary forests along Madagascar's eastern coast, supporting a large variety of endemic species found nowhere else on Earth.
- Under a renewed contract finalized this week the responsibility for its management was delegated to Razan'ny Vohibola, an association of volunteers from four surrounding villages.
- The task of protecting the forest, which is rapidly disappearing because of illegal logging, pits the local protectors against not just the timber mafia but also officials whom the villagers allege are complicit.
- Members of Razan'ny Vohibola were arrested in April on charges of aiding the illegal logging allegedly at the behest of corrupt officials, but released after the central environment ministry intervened.


Conservationists call for lasting ban on trade in Malagasy precious timber [05/03/2019]
- Precious rosewood and ebony has been plundered from Madagascar's forests for decades, threatening the survival of these hardwood tree species.
- Recent regulations have led to the Madagascar government accumulating a stockpile of the illegal precious wood, whose fate remains undecided.
- A new paper calls for species in two genera, Dalbergia and Diospyros, to be placed in Appendix I of the Convention on International Trade in Endangered Species of Wild Fauna and Flora (CITES), an international treaty regulating trade in threatened species.
- The move would ban all trade in the precious wood and thwart an attempt by the government to legalize and sell off the existing stockpile.


That Malagasy forest featured in Netflix's 'Our Planet'? It's vanishing fast [04/26/2019]
- Parts of the Netflix series "Our Planet," released this month, were shot in Kirindy Forest in the Menabe Antimena protected area in western Madagascar.
- It's a biodiversity-rich area that supports plant and animal species found nowhere else, including baobabs, lemurs and fossas.
- Between the shooting for the series in 2016 and its release in 2019, a large patch of the forest was lost, including areas where filming took place.
- This reflects a larger trend of deforestation in the area and in Madagascar, which is experiencing massive deforestation pressure.


The world lost a Belgium-size area of old growth rainforest in 2018 [04/25/2019]
- Newly released data indicate the tropics lost around 120,000 square kilometers (around 46,300 square miles) of tree cover last year – or an area of forest the size of Nicaragua.
- The data indicate 36,400 square kilometers of this loss – an area the size of Belgium – occurred in primary forest. This number is an increase over the annual average, and the third-highest amount since data collection began.
- Indonesia primary forest loss dropped to the lowest level recorded since 2002. Brazil's numbers are also down compared to the last two years, but still higher than the 18-year average.
- Meanwhile, primary rainforest deforestation appears to be on the rise elsewhere. Colombia recorded the highest level since measurement began at the beginning of the century. Madagascar had the highest proportion of its tropical forest lost in 2018; Ghana experienced the biggest proportional change over 2017.


Singapore acquits trader in world's biggest rosewood bust, worth $50m [04/19/2019]
- On April 8, Singapore's highest court acquitted a businessman who brought Malagasy rosewood valued at $50 million into the city-state in 2014, one of the largest wildlife seizures in the history of the Convention on International Trade in Endangered Species of Wild Flora and Fauna (CITES).
- The move reversed the ruling of a lower court that had sentenced the businessman to jail time and imposed $1 million in fines for importing protected wildlife.
- The court ordered Singapore authorities to return the rosewood to the businessman and his firm "as soon as practicable."
- Environmental groups have been looking on anxiously as the case wound its way through Singapore's courts for nearly five years, only to be disappointed by the final verdict.


Madagascar: Rio Tinto mine breaches sensitive wetland [04/09/2019]
- A large mineral sands mine in southeastern Madagascar has trespassed into a "sensitive zone," violating national law and raising the possibility that radionuclide-enriched tailings could enter a lake that local people use for drinking water, two recent studies confirm.
- Rio Tinto, the London-based multinational that owns the mine, acknowledged the breach for the first time in a March 23 memo, more than five years after the breach initially occurred.
- Rio Tinto will hold its annual general meeting April 10 in London.
- The director of an NGO that commissioned one of the studies is a shareholder and said she hopes to speak about what's happened at the lake.


Human population boom led to Madagascar's megafauna extinction: Study [04/04/2019]
- Large animals, called megafauna, went extinct in Madagascar about 1,000 years ago.
- Humans are believed to have played a major role in their disappearance.
- A human population boom, supported by the shift from a hunter-gatherer to a pastoralist-herder lifestyle, was a key driver, a new study says.
- Large populations meant more hunting pressure and habitat degradation, ultimately leading to extinction.


Meet Mini mum, Mini ature, Mini scule: Tiny new frogs from Madagascar [03/28/2019]
- Researchers have named three previously undescribed, extremely small species of frogs from Madagascar Mini mum, Mini ature, and Mini scule. All of them belong to Mini, a genus that is entirely new to science.
- The new study describes two more species of tiny frogs, Rhombophryne proportionali, and Anodonthyla eximia, both smaller than thumbnails, just like the Minis.
- The newly described frogs from Madagascar are, however, known only from a handful of locations. While the researchers recommend placing three of the species in a threatened category of the IUCN Red List, two species are data deficient.


Illegal corn farming menaces a Madagascar protected area [02/21/2019]
- Deforestation within Menabe Antimena Protected Area, a large swath of unique dry forest ecosystem on Madagascar's west coast, has increased dramatically in recent years.
- Slash-and-burn agriculture is the primary driver. Unlike in most places in Madagascar, it isn't done for subsistence farming but to plant corn, a cash crop traded by a powerful local elite.
- Conservation groups have teamed up to organize raids that have resulted in a number of arrests, and are making inroads into the corn distribution networks.
- So far, however, only impoverished laborers have been held to account, many of them new arrivals to the area who have fled drought in southern Madagascar; none of the well-connected backers of the deforestation have been touched.


Illegal gold mining destroys wetland forest in Madagascar park [02/19/2019]
- Over the last two years, small crews of miners using rudimentary hand tools have made repeated incursions into Ranomafana National Park in southeastern Madagascar, to dig hundreds of shallow pit mines.
- The wave of mining coincides with a steadily worsening security situation in the area, complicating attempts at enforcement and limiting researchers' ability to quantify the problem.
- In a new paper, authors used satellite imagery to analyze changes in forest cover and drone photography to survey the wetlands in the heart of Ranomafana.
- The area affected is still relatively small, but experts fear the problem could easily become much worse.


Viral video of endangered lemur made people want one as a pet: Study [01/29/2019]
- A viral video of a ring-tailed lemur released in 2016 triggered a common sentiment: hundreds of people tweeted about "wanting to own pet lemurs," a new study has found.
- Researchers did not find any evidence of people buying or selling lemurs on Twitter. But viral videos like these can reinforce public interest in having wild animals as pets, they say.
- Searches of the phrase "pet lemur" on Google and YouTube also spiked in the weeks immediately after the video went viral, compared to other weeks between 2013 and 2018.


New species of leaf-mimicking lizard could already be victim of pet trade [01/23/2019]
- From the forests of Marojejy National Park in Madagascar, researchers have described a new species of leaf-tailed gecko that has a somewhat compressed body, a small triangular head, and a leaf-shaped tail.
- So far, the gecko, named Uroplatus finaritra, is known only from within a small area at lower altitudes in Marojejy. Since forests in this area are rapidly disappearing due to illegal logging activity, both in and around the park, the researchers recommend that the gecko be listed as endangered on the IUCN Red List.
- The gecko may also have already appeared in the international pet trade under the label of the more common satanic leaf-tailed gecko, Uroplatus phantasticus.


Madagascar's next president to take office, bears suspect eco record [01/18/2019]
- Andry Rajoelina is set to be sworn in as president of Madagascar tomorrow, Jan. 19.
- Many conservationists and civil society representatives were disappointed by his election.
- Rajoelina had served as de facto president from 2009 to early 2014 after a coup d'état carried him to power.
- His past administration faced charges of corruption, especially regarding natural resource management. Top officials, including Rajoelina himself, were rumored to be involved in the illegal rosewood trade, which flourished during his time in office.


Coffee in trouble: 60% of wild coffee species threatened with extinction [01/17/2019]
- Of the 124 species of wild coffee known to science, 75 species, or 60 percent, are threatened with extinction due to deforestation, climate change and the spread of diseases and pests, a new study has found.
- The wild relative of Arabica, the most widely traded coffee in the world, is in particular trouble.
- Around 72 percent of the wild coffee species occur within some protected area, but many of the parks also have lax enforcement, and coffee species are rarely included within park management plans. Coverage of the potential range of the species is also poor.
- Moreover, only half of all wild coffee species occur in germplasm collections — critical resources for producing more resilient varieties of coffee in the future.


The biggest rainforest news stories in 2018 [12/30/2018]
- This is our annual rainforests year in review post.
- Overall, 2018 was not a good year for the planet's tropical rainforests.
- Rainforest conservation suffered many setbacks, especially in Brazil, the Congo Basin, and Madagascar.
- Colombia was one of the few bright spots for rainforests in 2018.



Notifications

Get notifications on conservation and environmental issues in Madagascar. Subscribe for free.





Overviews - by language

Arabic
Chinese-simplified
Chinese-traditional
Croatian
Czech
English
Farsi
French (expanded)
German
Greek
Hindi
Indonesian
Japanese
Italian
Malagasy (rainforests)
Malay
Portuguese
Portuguese (Brazil)
Romanian
Russian
Spanish
Slovak
Ukrainian



Key pages

About Madagascar
Maps
FAQs
People
History
Flora
Wildlife
Birds
Fish
Frogs
Invertebrates
Lemurs
Mammals
Reptiles
Environment
Conservation
ANGAP
Parks
Educational
Media resources
Store
Madagascar Travel
About the site
How to help
Links
Contact

Photos



Lemurs

Frogs

Insects

Reptiles

Birds

Villages

People

Landscapes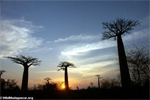 Flora
Other useful resources