Madagascar News

Madagascar remembers Guy Suzon Ramangason, a champion of protected areas
- In April, Madagascar lost a prominent champion of the country's system of protected areas.
- Guy Suzon Ramangason was director-general of Madagascar National Parks, the quasi-governmental agency that manages many of the country's protected areas, for 16 years.
- He helped develop and promote numerous protected areas across the country during his long career in conservation.


After canoe chase, Madagascar authorities seize 144 endangered tortoises
- Authorities in Madagascar have seized 144 radiated tortoises from poachers in the country's south, in the biggest tortoise trafficking bust in the country since 2018.
- Radiated tortoises (Astrochelys radiata), a critically endangered species, are illegal to collect or trade; most of the 144 were adults targeted for their meat.
- The tortoises are being cared for at a recovery facility, but may not be returned to the wild anytime soon; trafficking has increased so much in recent years that conservation groups engaged in the rescue of tortoises have stopped all wild releases.
- Experts warn of a likely increase in poaching in Madagascar's south, where radiated tortoises are found, as a result of the economic slump triggered by the coronavirus pandemic.


COVID-19 lockdown precipitates deforestation across Asia and South America
- Increased logging activity has been reported from Brazil, Colombia, Cambodia, Indonesia, Nepal and Madagascar since the start of the COVID-19 pandemic.
- Reduced monitoring by enforcement authorities and social upheaval have both been cited as reasons for the increase.
- Environmental groups are concerned that the expected global economic recession will result in governments deregulating businesses, leading to a less green recovery as a result.


In Madagascar's capital, pollution threatens an oasis for birds
- Tsarasaotra Park, located in the center of Antananarivo, is one of the few remaining refuges for the waterbirds of Madagascar's highlands.
- The park is the first private site to be classified as a wetland of international importance by the Ramsar Convention.
- The fast pace of urbanization in the capital is degrading the park's biodiversity and putting the birds at risk.


In Madagascar's dry forests, COVID-19 sparks an intense, early fire season
- Though Madagascar officially has just under 1,800 reported infections and 16 deaths from COVID-19, the pandemic's socioeconomic effects will be catastrophic for the country, the U.N. has warned.
- One tangible impact has been the fire season, which has started early and is likely to be fiercer this year as rural residents deprived of tourism revenue, employment opportunities and access to food markets turn to the forest to survive.
- The environment ministry registered 52,000 forest fire incidents from January until the start of June, with the western flank of the country, which hosts its unique dry forests, being the worst-affected.
- A reduction in NGOs' and state agencies' field activities has made forest patrols more challenging and affected the critical task of creating fire breaks.


One-two punch of drought, pandemic hits Madagascar's poor and its wildlife
- Because of the fallout from the COVID-19 pandemic, for the first time in years poverty is rising in Madagascar, already one of the poorest countries in the world.
- Near Tsimanampesotse National Park in the southwest of the country, the loss of tourists has coincided with a disastrously dry rainy season, and restrictions associated with the pandemic are adding to rural distress; an estimated half a million people will need food aid in the coming months.
- Erratic rainfall patterns and food scarcity don't just affect humans but also the lemurs living in the park, according to Lemur Love, a nonprofit that works in Tsimanampesotse National Park.
- The hunger crisis created by the drought and compounded by the pandemic could force people to lean even more heavily on nature; to impinge on forests and consume more wild meat to survive.


Grasslands claim their ground in Madagascar
- Grasslands cover most of Madagascar's land area, but they are often regarded as nothing more than former forests, denuded by human destruction.
- In the last 15 years, scientists from Madagascar and abroad have set out to restore grasslands' reputation as ancient and valuable ecosystems in their own right.
- New research shows that some of Madagascar's grass communities are ancient, having co-evolved with natural fires and now-extinct grazing animals such as hippos and giant tortoises.


Marijuana cultivation whittling away Madagascar's largest connected forest
- Northern Madagascar contains the largest block of connected forest left in the country.
- Tsaratanana Reserve is supposed to protect a large portion of this forest. However, satellite data and imagery show Tsaratanana is being cleared at a rapid rate.
- Local officials say slash-and-burn agriculture for marijuana cultivation is to blame. The Madagascar National Parks agency helped organize military deployments to the Tsaratanana area in 2014 and 2017, and is planning another intervention this year.
- Scientists say that if this deforestation continues, it will fragment the reserve's well-connected forests and threaten the animals that live there — many of which are found nowhere else in the world.


Evidence that fish flourish in a community-managed marine area offers hope
- New research from Madagascar offers a glimmer of hope that locally managed marine areas (LMMAs), an alternative to conventional government-managed marine protected areas (MPAs), could help secure the richness of the seas.
- A study done in-house by Blue Ventures, a nonprofit that co-manages the Velondriake LMMA with local communities, found that the fish biomass was almost two times more in no-take zones than sites where fishing was allowed after six years.
- However, fish targeted by fishers did not increase in amount, which some experts point out would indicate that the LMMA is actually not effective.
- Study authors say local communities are able to enforce restrictions because they feel a sense of ownership, which is essential for a conservation project in poorer countries to succeed.


As visitors vanish, Madagascar's protected areas suffer a 'devastating' blow
- The country has lost half a billion dollars in much-needed tourism revenue since the start of 2020 because of the COVID-19 crisis, according to official estimates.
- Tourism contributes toward funding conservation efforts in Madagascar's network of protected areas; those protected areas that rely heavily on foreign visitors have been hit worst by the crisis.
- There are also fears that international funding, the primary support for conservation efforts in Madagascar, could be jeopardized as big donors face economic crises in their home countries.
- Greater impoverishment could hurt communities living near the protected areas and lead to even more unsustainable exploitation of forests and natural resources.


A 'crazy beast' that coexisted with dinosaurs discovered from Madagascar
- Adalatherium hui, which in Malagasy and Greek translates into "crazy beast," was discovered from the study of a 66 million-year-old fossil from Madagascar.
- An early mammal species, it has a peculiar anatomy and a mosaic of features that is distinct from other mammals, from its peculiar teeth to its curved leg bones.
- It is also unusually large, the size of a house cat, compared to other mammals that coexisted with dinosaurs, which were no bigger than present-day mice.
- The researchers believe it is key to understanding the early evolution of mammals in the southern hemisphere.


COVID-19 will hurt Madagascar's conservation funding: Q&A with Minister Vahinala Raharinirina
- There is growing concern that the COVID-19 crisis will enfeeble conservation efforts across the globe, particularly in developing countries.
- The concern is acute for Madagascar, one of the poorest nations in the world, which relies heavily on foreign funds to implement conservation programs.
- The disappearance of tourism revenue in the short term and the possible drying up of international funding and deepening impoverishment in the coming months and years could grievously endanger Madagascar's unique biodiversity, Madagascar's environment minister told Mongabay.


Madagascar's president promotes unproven herbal cure for COVID-19
- Madagascar's president, Andry Rajoelina, unveiled an unproven cure for COVID-19 that is derived from a plant, Artemisia annua.
- His comments at a launch of the herbal remedy on April 20 suggested that the remedy, called COVID-ORGANICS, would act both as a cure and a vaccine.
- No evidence from any clinical trials was shared to back up the claims.
- The World Health Organization did not respond to Mongabay's questions about COVID-ORGANICS, but the agency has warned against the spread of misinformation and purported miracle cures.


Ring-tailed lemurs 'stink flirt' (it's not as bad as it sounds)
- During the mating season, male ring-tailed lemurs rub secretions from glands on their wrists onto their tails and wave them at female lemurs.
- These chemical secretions, identified by researchers at the University of Tokyo, have emerged as the first pheromone candidates to be identified in a primate.
- Pheromones, chemical compounds that animals secrete, can signal more than sexual availability; they can also communicate danger or mark trails.
- For the ring-tailed lemur secretions be recognized as real sex pheromones, the scientists will have to show that they are used to communicate only within the species and that they influence mating behavior.


In Madagascar, revived environmental crime hotline leads to tortoise bust
- A Malagasy civil society group recently relaunched a hotline for people to report environmental crimes while avoiding the reprisals that often follow when they make such reports to the authorities.
- The group hired four environmental lawyers to answer the phones and investigate the cases, referring some to government agencies for enforcement.
- An anonymous caller told hotline lawyers about a classified ad for endangered tortoises in a Malagasy newspaper. The call led to the arrest in March of the seller, a government worker who is now in prison awaiting trial.
- Many governments have online and telephone reporting options for environmental and wildlife crimes. However, in countries with corrupt institutions and weak law enforcement, NGOs and civil society groups often run the hotlines.


National parks in Africa shutter over COVID-19 threat to great apes
- Wildlife authorities in some parts of Africa have effectively locked down parks that are home to gorillas, chimpanzees and bonobos, amid concerns that the COVID-19 pandemic could make the jump to great apes.
- Humans and great apes share more than 95% of the same genetic material, and are susceptible to many of the same infectious diseases, ranging from respiratory ailments to Ebola.
- Virunga National Park in the Democratic Republic of the Congo shut its doors to tourists this week, while in Rwanda all parks hosting gorillas and chimpanzees were also shut; Uganda is considering doing the same, with its parks de facto closed because of a drop in tourist arrivals.
- Even if the apes avoid COVID-19, the loss of tourism revenue for the parks and potential loss of income for people who work to protect these species could cause enduring damage to conservation efforts, experts say.


Three new species of chameleons emerge from centuries-old entanglement
- Three new species of soft-nosed chameleons endemic to Madagascar were described in a recent paper in Vertebrate Zoology.
- Calumma emelinae from the east coast of Madagascar, C. tjiasmantoi from the southeast, and C. ratnasariae from the north officially joined the ranks of more than 90 species of chameleon that are endemic to Madagascar.
- A co-author described them as "tiny chameleons with funny noses," because of the horn-like rostral appendage they sport.
- The discovery of distinct species within the species complex calls for the re-evaluation of their conservation status, according to the authors of the study.


Madagascar off pace to meet Aichi targets, which is bad news for the world
- The unique biodiversity of the world's oldest island, including its 110 lemur species, remains as imperiled as ever.
- Though the country has tripled the terrestrial area under protection since 2003, the quality of the protection is inadequate.
- Madagascar is lagging in the creation of marine protected areas with less than 1% of its total marine area of 1.2 million km2 (433,000 mi2) currently safeguarded under national law.
- Tourism could boost conservation efforts in important biodiversity areas, but it calls for greater investment from the government and private players.


Marginalized voices from resource conflicts enter the mainstream via video
- The "Seeing Conflicts at the Margins" project lets communities embroiled in resource conflicts in Kenya and Madagascar share their experiences by shooting videos.
- A national launch for the videos produced under the project, funded by the U.K. government, took place at the residence of the U.K. ambassador to Madagascar on Feb. 18 in Antananarivo.
- One of the videos, shot in Antsotso village, deals with the effects of a local forest being protected by a mining company owned by mining giant Rio Tinto.
- All the videos had been screened for members of the participating communities before the national launch.


Raze here, save there: Do biodiversity offsets work for people or ecosystems?
- The Bemangidy-Ivohibe biodiversity offset was created in southeastern Madagascar by QMM, a subsidiary of mining giant Rio Tinto, to make up for the destruction of highly threatened littoral forests as a result of mining activity.
- While the rights of people directly displaced by development projects like mines are recognized to some degree, those of communities affected by biodiversity offsets, of which there are more than 13,000 worldwide, remain unclear.
- Critics say QMM fortified the forest and restricted villagers' access to essential resources, pushing them toward starvation. The company says it has saved the forest from certain destruction at the hands of local people.
- The justification for offsets — biodiversity gains — are also hard to document, especially in the case of Bemangidy-Ivohibe which is a lowland humid forest, a different landscape from the littoral forest being razed by QMM.



Notifications

Get notifications on conservation and environmental issues in Madagascar. Subscribe for free.





Overviews - by language

Arabic
Chinese-simplified
Chinese-traditional
Croatian
Czech
English
Farsi
French (expanded)
German
Greek
Hindi
Indonesian
Japanese
Italian
Malagasy (rainforests)
Malay
Portuguese
Portuguese (Brazil)
Romanian
Russian
Spanish
Slovak
Ukrainian



Key pages

About Madagascar
Maps
FAQs
People
History
Flora
Wildlife
Birds
Fish
Frogs
Invertebrates
Lemurs
Mammals
Reptiles
Environment
Conservation
ANGAP
Parks
Educational
Media resources
Store
Madagascar Travel
About the site
How to help
Links
Contact

Photos



Lemurs

Frogs

Insects

Reptiles

Birds

Villages

People

Landscapes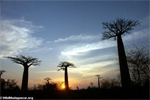 Flora
Other useful resources