Madagascar News

Illegal corn farming menaces a Madagascar protected area [02/21/2019]
- Deforestation within Menabe Antimena Protected Area, a large swath of unique dry forest ecosystem on Madagascar's west coast, has increased dramatically in recent years.
- Slash-and-burn agriculture is the primary driver. Unlike in most places in Madagascar, it isn't done for subsistence farming but to plant corn, a cash crop traded by a powerful local elite.
- Conservation groups have teamed up to organize raids that have resulted in a number of arrests, and are making inroads into the corn distribution networks.
- So far, however, only impoverished laborers have been held to account, many of them new arrivals to the area who have fled drought in southern Madagascar; none of the well-connected backers of the deforestation have been touched.


Illegal gold mining destroys wetland forest in Madagascar park [02/19/2019]
- Over the last two years, small crews of miners using rudimentary hand tools have made repeated incursions into Ranomafana National Park in southeastern Madagascar, to dig hundreds of shallow pit mines.
- The wave of mining coincides with a steadily worsening security situation in the area, complicating attempts at enforcement and limiting researchers' ability to quantify the problem.
- In a new paper, authors used satellite imagery to analyze changes in forest cover and drone photography to survey the wetlands in the heart of Ranomafana.
- The area affected is still relatively small, but experts fear the problem could easily become much worse.


Viral video of endangered lemur made people want one as a pet: Study [01/29/2019]
- A viral video of a ring-tailed lemur released in 2016 triggered a common sentiment: hundreds of people tweeted about "wanting to own pet lemurs," a new study has found.
- Researchers did not find any evidence of people buying or selling lemurs on Twitter. But viral videos like these can reinforce public interest in having wild animals as pets, they say.
- Searches of the phrase "pet lemur" on Google and YouTube also spiked in the weeks immediately after the video went viral, compared to other weeks between 2013 and 2018.


New species of leaf-mimicking lizard could already be victim of pet trade [01/23/2019]
- From the forests of Marojejy National Park in Madagascar, researchers have described a new species of leaf-tailed gecko that has a somewhat compressed body, a small triangular head, and a leaf-shaped tail.
- So far, the gecko, named Uroplatus finaritra, is known only from within a small area at lower altitudes in Marojejy. Since forests in this area are rapidly disappearing due to illegal logging activity, both in and around the park, the researchers recommend that the gecko be listed as endangered on the IUCN Red List.
- The gecko may also have already appeared in the international pet trade under the label of the more common satanic leaf-tailed gecko, Uroplatus phantasticus.


Madagascar's next president to take office, bears suspect eco record [01/18/2019]
- Andry Rajoelina is set to be sworn in as president of Madagascar tomorrow, Jan. 19.
- Many conservationists and civil society representatives were disappointed by his election.
- Rajoelina had served as de facto president from 2009 to early 2014 after a coup d'état carried him to power.
- His past administration faced charges of corruption, especially regarding natural resource management. Top officials, including Rajoelina himself, were rumored to be involved in the illegal rosewood trade, which flourished during his time in office.


Coffee in trouble: 60% of wild coffee species threatened with extinction [01/17/2019]
- Of the 124 species of wild coffee known to science, 75 species, or 60 percent, are threatened with extinction due to deforestation, climate change and the spread of diseases and pests, a new study has found.
- The wild relative of Arabica, the most widely traded coffee in the world, is in particular trouble.
- Around 72 percent of the wild coffee species occur within some protected area, but many of the parks also have lax enforcement, and coffee species are rarely included within park management plans. Coverage of the potential range of the species is also poor.
- Moreover, only half of all wild coffee species occur in germplasm collections — critical resources for producing more resilient varieties of coffee in the future.


The biggest rainforest news stories in 2018 [12/30/2018]
- This is our annual rainforests year in review post.
- Overall, 2018 was not a good year for the planet's tropical rainforests.
- Rainforest conservation suffered many setbacks, especially in Brazil, the Congo Basin, and Madagascar.
- Colombia was one of the few bright spots for rainforests in 2018.


Wildlife, ecotourism industry at stake in Madagascar's election, says scientist [12/18/2018]
- Madagascar's election on Wednesday could have major implications for the future of the island's environment and wildlife, says a prominent conservation scientist.
- In an op-ed published this week in Al Jazeera, William F. Laurance, a researcher at James Cook University in Australia, warns that if Madagascar chooses former president Andry Rajoelina, the country's dwindling natural resources could face renewed assault.
- Under Rajoelina's previous reign, which followed a 2009 coup, Madagascar's forests, wildlife, and coastal waters were pillaged.
- Laurance contrasts Rajoelina with his opponent, Marc Ravalomanana, who was lauded by conservationists during his tenure for expanding protected areas, banning commercial logging, and taking steps to reduce deforestation.


Madagascar auctioning a large swath of virgin waters for oil exploration [12/14/2018]
- In September, Madagascar announced the opening of a large area of marine territory to oil exploration: 44 concessions totaling 63,296 square kilometers (24,440 square miles) in the Mozambique Channel off the country's west coast.
- Members of the hydrocarbon industry expressed excitement about the news, but civil society groups oppose the sale, arguing that the potential projects' environmental and social impacts have not been evaluated.
- Some of the 44 blocks overlap with a marine protected area, territory marked for potential future marine protected areas, or areas managed by local fishing communities.


Local fishers oppose $2.7 billion deal opening Madagascar to Chinese fishing [11/05/2018]
- Two months ago, a little-known private Malagasy association signed a 10-year, $2.7 billion fishing deal — the largest in the country's history — with a group of Chinese companies that plans to send 330 fishing vessels to Madagascar.
- Critics of the deal include the country's fisheries minister, who said he learned about it in the newspaper; environmental and government watchdog groups; and local fishers, who are already struggling with foreign competition for Madagascar's dwindling marine stocks.
- Critics say no draft of the deal has been made public and the association that signed it did not conduct an environmental impact assessment or any public consultation.
- The issue has drawn media attention in the run-up to the presidential election on Wednesday. The incumbent and a leading candidate, Hery Rajaonarimampianina, was present at the fisheries deal's signing, although he later claimed not to be familiar with it.


Thousands of radiated tortoises seized from traffickers in Madagascar [10/31/2018]
- More than 7,000 critically endangered radiated tortoises were confiscated by authorities from suspected wildlife traffickers in Madagascar on Oct. 24.
- The seizure happened in the same area where a similar bust, involving nearly 10,000 tortoises of the same species, took place in April.
- The NGO Turtle Survival Alliance is working with the Madagascar environment ministry to care for the surviving tortoises.


In Bali and beyond: An urgent focus on coral conservation (commentary) [10/29/2018]
- Millions of people depend on coral for their nutritional health and well-being.
- But we are damaging coral reefs today: with sediment that flows from rivers, caused by development and deforestation on land; with overfishing that upsets the delicate balance of species on reef; with chemicals, like cyanide, that are used to catch fish when there are few left to catch; with the rise in temperature caused by our continued dependence on fossil fuels.
- There is reason for hope, though. Some coral reefs around the world are stronger, more flexible, and more resilient than others to changes and threats in their environment. These reefs need to be protected.
- This post is a commentary. The views expressed are those of the author, not necessarily Mongabay.


CITES rejects another Madagascar plan to sell illegal rosewood stockpiles [10/24/2018]
- At a meeting in Sochi, Russia, earlier this month, CITES's standing committee rejected Madagascar's latest plan to sell off its stockpiles of illegally harvested rosewood, largely because the plan called for local timber barons to be paid for their troves of wood.
- Environmental groups argued that operators who logged illegally should not be rewarded for it, and delegations from several African countries reportedly opposed the plan because they feared their own timber barons would learn the wrong lesson from the deal.
- Madagascar's environment ministry released a statement after the meeting indicating that it would take the recommendations made by the CITES committee into account in revising the plan for submission again in 2019.


Top Madagascar shrimp co. moved millions among tax-haven shell companies [10/11/2018]
- Aziz Ismail, 85, a French citizen born in Madagascar, bought into Madagascar's shrimp business in 1973. His empire, known generally as Unima, now includes at least eight privately held companies in Europe and Africa that are mainly involved in seafood from Madagascar, where operations are centered.
- Ismail has also owned a British Virgin Islands-based shell company called Ergia Limited since 2000. In the last decade, Ergia appears to have had financial transactions totaling several million dollars with another apparent shell company in Mauritius that has close ties to Unima, and with Unima companies in Europe.
- Although owning and using offshore companies is generally legal, tax and law enforcement officials are increasingly scrutinizing transactions through tax havens like the British Virgin Islands and Mauritius. Tax inspectors from Madagascar and other experts said Unima's use of multiple offshore companies raises the risk of lost taxes for one of the world's poorest countries.
- Files obtained from the now-defunct Panama-based law firm Mossack Fonseca as part of the "Panama Papers" were the basis for this investigation by Mongabay and the International Consortium of Investigative Journalists.


Humans reached Madagascar 6,000 years earlier than previously thought [09/12/2018]
- New research suggests humans reached Madagascar far earlier than previously thought.
- The study, published today in the journal Science Advances, is based on analysis of giant elephant bird bones discovered in 2009.
- Those bones showed "chop marks, cut marks, and depression fractures consistent with immobilization and dismemberment" by prehistoric humans.
- Until now, the earliest documented evidence of humans in Madagascar dated to 2,400-4,000 years ago.


Madagascar: Where young whale sharks party [08/31/2018]
- Whale sharks don't need help being spectacular. The world's biggest fish is impressive in nearly every aspect, growing as long as 12 meters (40 feet) and weighing up to 21 tons.
- A new study in the journal Endangered Species Research used photo-identification techniques based on the sharks' distinctive spots to discover a new hotspot for juvenile whale sharks around the tiny island of Nosy Be, in northwest Madagascar.
- This is a rare bit of good news for a species that, like many other sharks, is struggling to survive in oceans increasingly subject to the negative impacts of human activity.


Bandits raid village near Madagascar park, killing conservation worker [08/27/2018]
- Armed bandits attacked a village on the edge of Ranomafana National Park in southeastern Madagascar in late July.
- They robbed residents and killed a technician for the Centre ValBio research institute.
- The incident is part of a growing pattern of banditry, both in the Ranomafana area and across Madagascar, where instability has increased in the run up to presidential elections scheduled for later this year.


Millipedes might soothe itchy lemurs, research finds [08/13/2018]
- Scientists have observed red-fronted lemurs in Madagascar biting millipedes and then rubbing themselves with the secretions.
- A team of researchers published their observations in the journal Primates, along with their hypothesis that the lemurs were using the millipede secretions to treat worm infections.
- The study's lead author also observed lemurs eating the millipedes, which may slow the growth of parasites living in the primates' intestines.


Madagascar proposes paying illegal loggers to audit or buy their rosewood [08/08/2018]
- In June, the World Bank facilitated a workshop to discuss what Madagascar should do with its stockpiles of illegally logged rosewood.
- Madagascar has been grappling with the question for years, but has been unable to make a proper inventory of the stockpiled wood or control illegal exports.
- The rosewood could be worth hundreds of millions of dollars on the international market, but the country cannot sell it until it shows progress in enforcing its own environmental laws.
- At the workshop, Madagascar's government proposed a radical solution: paying loggers for access to their illicit stockpiles in order to keep tabs on the wood, or even buying the wood back from them directly.


95 percent of all lemur species face high risk of extinction, experts say [08/02/2018]
- More than 50 experts in primate conservation from around the world recently convened in Antananarivo to review the conservation status of the 111 species and subspecies of lemurs, all endemic to Madagascar, and provide updated threat assessments for the IUCN Red List.
- They found that 105 lemurs — 95 percent of all known lemur species and subspecies — might qualify as critically endangered, endangered, or vulnerable to extinction in the wild.
- The updated assessments produced by the IUCN Species Survival Commission Primate Specialist Group must still undergo a review process before they are fully validated, but the group's findings would increase the number of lemurs listed as critically endangered on the IUCN Red List from 24 to 38.



Notifications

Get notifications on conservation and environmental issues in Madagascar. Subscribe for free.





Overviews - by language

Arabic
Chinese-simplified
Chinese-traditional
Croatian
Czech
English
Farsi
French (expanded)
German
Greek
Hindi
Indonesian
Japanese
Italian
Malagasy (rainforests)
Malay
Portuguese
Portuguese (Brazil)
Romanian
Russian
Spanish
Slovak
Ukrainian



Key pages

About Madagascar
Maps
FAQs
People
History
Flora
Wildlife
Birds
Fish
Frogs
Invertebrates
Lemurs
Mammals
Reptiles
Environment
Conservation
ANGAP
Parks
Educational
Media resources
Store
Madagascar Travel
About the site
How to help
Links
Contact

Photos



Lemurs

Frogs

Insects

Reptiles

Birds

Villages

People

Landscapes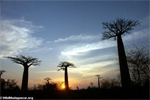 Flora
Other useful resources