Madagascar News

Can a national management plan halt Madagascar's shark decline? [11/11/2019]
- Sharks once were plentiful in Madagascar's waters, but a spike in demand for shark fins dating to the 1980s has led to heavy exploitation and a reduction in the fishes' abundance and size.
- Madagascar has no national laws that specifically protect sharks. In June, though, the country released a new national plan for the sustainable management of sharks and rays.
- The plan calls for a shark trade surveillance program, a crackdown on illegal industrial fishing, more "no-take" zones, and a concerted effort to collect better data.
- Conservationists welcomed the plan as an important step — provided the country can enforce its provisions.


Madagascar suspends activities at controversial Base Toliara mine [11/08/2019]
- The Malagasy government suspended activities at the Base Toliara ilmenite mine in southwest Madagascar citing opposition from local communities and unfavourable terms for the people and government.
- The mine is intended to produce ilmenite, which is considered the most important ore of titanium and used commercially in the production of paint, adhesives and even toothpaste.
- The company described the government's decision as "disappointing" and said it will engage in discussions to convince the government of the mine's benefits.
- Civil society organizations hailed the decision, noting that it represents the government putting the concerns of the people above the interests of a private company, and expressed hope that it will set a precedent.


What makes community ecotourism succeed? In Madagascar, location, location, location [10/25/2019]
- For the past two decades, donors and international NGOs have worked with the Malagasy government to create thousands of local associations to manage and conserve parcels of forest.
- Ecotourism ventures, along with farming support, are often presented as an important way to overcome the loss of income that usually accompanies new restrictions on how local people can use their land.
- Successful ecotourism ventures are few and far between, but a common factor is also something that's hard to replicate: proximity to highways and other tourist destinations.


A 'sly' species of leaf-tailed gecko uncovered from Madagascar [10/23/2019]
- Scientists have described a new species of leaf-tailed gecko, Uroplatus fetsy, believed to be found only in Madagascar's Ankarana Special Reserve.
- All Uroplatus species are endemic to Madagascar and are best known for their leaf-like tails and coloration that allow them to blend into the foliage.
- Though newly described, U. fetsy may already be at risk: the dry deciduous forests of the reserve are severely threatened by illegal logging, cattle grazing, fires, and artisanal mining.
- The authors of the paper describing the new species say it could warrant endangered status on the IUCN Red List because of these threats to its habitat.


Madagascar calls for assistance as fires imperil its protected areas [10/11/2019]
- Between August and September 1,300 hectares (3212 acres) of forest land in Ankarafantsika National Park in northwestern Madagascar was burnt.
- Bush fires from slash-and-burn cultivation, in which forestland is burnt and cleared to plant crops, caused the most damage.
- The fires impacted forests not just in the buffer zone of the park but also the core area.
- The Malagasy government has called on the international community to aid its fire-fighting efforts.


Madagascar: Opaque foreign fisheries deals leave empty nets at home [10/09/2019]
- Malagasy fishers blame shrimp trawlers that ply coastal waters for their declining catches.
- However, the bulk of industrial fishing in Madagascar's waters takes place far from shore and out of view. It's conducted by foreign fishing fleets working under agreements that critics say lack transparency.
- Conservationists argue that these foreign vessels are also depleting the country's fish stocks and marine ecosystems.
- With negotiations to renew a fisheries deal with the European Union having flopped late last month and uncertainty lingering over an enormous and controversial fisheries deal with a Chinese company, much is at stake for Madagascar's small-scale fishers.


CITES appeals to countries to watch out for trafficked Malagasy rosewood [10/07/2019]
- International wildlife trade regulator CITES has issued an advisory warning that $50 million in Madagascar rosewood logs being held in Singapore could find its way back into the black market.
- The timber was seized in 2014 in Singapore, but a local court earlier this year acquitted the trader responsible for it on charges of trafficking, and ordered the release of the 30,000 logs.
- Trade in rosewood from Madagascar has been banned by CITES since 2013 and under Malagasy law since 2010, but enforcing the embargo has proved difficult.
- The Singapore case highlights the pitfalls in implementing the ban, with observers faulting the Malagasy government's flip-flop during court proceedings as to whether the seized precious wood was legal.


Demand for charcoal threatens the forest of Madagascar's last hunter-gatherers [10/03/2019]
- The Mikea, who number around 1,000 people, are facing what many of them say is an existential environmental problem.
- Their ancestral forest in southwestern Madagascar is partly protected inside a national park.
- However, it is rapidly being chopped down to supply a growing demand for charcoal, the country's primary source of cooking fuel.
- Some Mikea, having lived their entire lives hunting and gathering, are facing a shortage of game and other food and are now considering whether they must abandon the forest, and their way of life, for good.


Top Madagascar beer maker supports investigation into its corn supply chain [09/27/2019]
- Madagascar brewer STAR, owned by the French Castel group, is under pressure for allegedly sourcing maize from a rapidly deforesting area in the country's west.
- It has agreed to support an independent study led by Malagasy NGO Association Fanamby to investigate whether the maize in its supply chain is linked to deforestation in the Menabe Antimena protected area.
- The protected area hosts endangered and endemic species like the Madame Berthe's mouse lemur (Microcebus berthae) and the Malagasy giant rat (Hypogeomys antimena).
- More than one-fifth of the dry deciduous forest in Menabe Antimena was lost between 2006 and 2016, and there are no signs of the deforestation abating.


Loss of Madagascar's biodiversity is a loss for Earth, Pope says [09/09/2019]
- On a visit to Madagascar this weekend, Pope Francis denounced the "excessive" forest loss in the country.
- He was speaking at the presidential palace, during a courtesy call to President Andry Rajoelina.
- The pope also visited Mozambique before arriving in Madagascar, where he addressed the ecological disaster faced by the African nation after it was hit by two back-to-back cyclones this year.
- His seven-day tour which includes a day trip to Mauritius on Monday comes to a close on Tuesday.


Madagascar: What's good for the forest is good for the native silk industry [08/16/2019]
- People in the highlands of central Madagascar have long buried their loved ones in shrouds of thick wild silk, typically from the endemic silkworm known as landibe (Borocera cajani).
- With support from NGOs, traditional silk workers have widened their offerings to include scarves made of wild silk for sale to tourists and the country's elites.
- In recent years, the price of raw materials has shot up as the forests the landibe grows in succumb to fire and other threats, making it difficult for silk workers to continue their craft.
- However, where there are forest-management challenges, there is also opportunity: the silk business provides an incentive for local people to protect their trees. Some well-organized and well-supported community groups are cashing in on conservation, in spite of the broader silkworm recession.


Photo essay: Madagascar's disappearing dry forests (insider) [08/07/2019]
- Mongabay founder Rhett A. Butler writes about his visit to the dry forests of western Madagascar last month.
- The dry forest of western Madagascar is famous for its wildlife and baobab trees, including the tourist destinations of Baobab Alley, Tsingy de Bemaraha, and Kirindy Forest.
- Rhett traveled to Madagascar for the annual Association for Tropical Biology and Conservation (ATBC) meeting. Ahead of the conference, he used the opportunity to visit the Menabe region of western Madagascar to investigate some GPS points identified via Global Forest Watch's GLAD alert system as potential recent deforestation.
- This post is insider content, which is available to paying subscribers.


Baby whale wears a camera, reveals its travel and nursing behavior: video [07/25/2019]
- A video taken by a camera carried by a baby whale shows underwater nursing behavior from the calf's perspective.
- The CATS Cam camera used in the filming incorporates multiple environmental sensors, such as depth and temperature, as well as movement and acceleration by the calf.
- The unusual perspective may help researchers better understand the nursing process of a baby whale, including surfacing to breathe while its mother remains underwater and suckling from mammary slits on each side of its mom.


In Madagascar, villagers oppose plans for a dam that would inundate their land [07/18/2019]
- A dam project in Madagascar's central highlands, still in its planning stages, would submerge several villages, forcing hundreds or thousands of people out of their ancestral homes.
- Residents at risk of being displaced oppose the dam, and civil society groups argue that its potentially large size and social impact are not justified by the relatively small amount of power it would produce.
- The Italian company behind the project insists it's not yet clear if the project is feasible and has made no definitive plans to build the dam.


We are planting trees everywhere: Q&A with Madagascar's environment minister [07/17/2019]
- Alexandre Georget, a founder of Madagascar's first green party in 2008, is the country's new environment minister.
- In an interview with Mongabay, Georget discussed the government's reforestation plans and outlined how he expected to approach its 2019 goal of reforesting 40,000 hectares.
- He also described the government's new position on the sale of confiscated illegally harvested precious timber, in advance of the upcoming CITES meeting in August.


Study finds lemurs in degraded Madagascar forest skinny and stunted [07/15/2019]
- In Madagascar's Tsinjoarivo rainforest, adults of the critically endangered diademed sifakas living in the most degraded of forest fragments tend to be skinnier, and young individuals show stunting, compared to individuals living in more intact parts of the forest, according to a new study.
- Skinny bodies in adults could mean that their nutritional intake is compromised in the disturbed areas, researchers say, while young sifakas could be growing more slowly in the most disturbed areas in response to reduced nutrition in the diet.
- Sifakas living in less-disturbed forest fragments, however, don't appear to be in poorer health than those in continuous, intact forests. This could be because the long-lived sifakas are likely resilient to moderate habitat changes, the researchers say.
- But threats could add up and cause local populations to disappear, the researchers add.


Eat the insects, spare the lemurs [07/11/2019]
- To solve the twin challenges of malnutrition and biodiversity loss in Madagascar, new efforts are promoting edible insects as a way to take pressure off wildlife that people hunt for meat when food is scarce.
- Insects are widely eaten in Madagascar. They are also incredibly nutritious and one of the "greenest" forms of animal proteins in terms of their land, water and food requirements and their greenhouse gas emissions.
- One program is testing the farming of sakondry, a little-known hopping insect that tastes a lot like bacon. Another is setting up a network of cricket farms.
- Other attempts to reduce reliance on forest protein include improving chicken husbandry in rural areas.


Madagascar mine ignites protests, community division [07/02/2019]
- An Australian mining company, Base Resources, plans to break ground soon on a mineral sands mining project in southwestern Madagascar.
- Base Resources says the project represents a development opportunity for the region. It has the support of most government officials and local mayors.
- But local opposition groups have called for an end to the project, citing the negative environmental impact it could have and insisting that it's been made possible only through corrupt land deals.
- The battle over the project has played out in the Malagasy media for several years and is reaching a fever pitch as the project nears fruition. In the latest development, a Madagascar court released nine community members held for six weeks on accusations of participating in the destruction of Base Resources' exploration campsite.


Food choice leaves some lemurs more vulnerable to loss of forest habitat [06/26/2019]
- The gut microbes of some lemur species are specialized to help in digesting food found in their habitats, a new study has found.
- Lemurs are only found in Madagascar and the Comoros Islands in the Indian Ocean, and are one of the most threatened primate groups in the world.
- The study suggests the mostly leaf-eating group of lemurs known as sifakas, in the genus Propithecus, host gut microbes that are specialized for their diets and therefore less adaptable to food sources found in other habitats.
- Madagascar reports alarming rates of deforestation, losing 2 percent of its primary rainforest just last year, the highest rate of any country.


Science community rallies support to save Madagascar's natural riches [06/24/2019]
- Madagascar is set to host the Association of Tropical Biology and Conservation's 56th annual meeting in July.
- The organizers have launched a petition to garner support for urgent actions that must be taken to preserve the island nation's unique biodiversity.
- The petition will be presented to the country's president, who has been invited to sign it and recognize it as the Declaration of Ivato, after the site where the meeting will take place.
- The document, available in four languages, can be accessed online until Aug. 2.



Notifications

Get notifications on conservation and environmental issues in Madagascar. Subscribe for free.





Overviews - by language

Arabic
Chinese-simplified
Chinese-traditional
Croatian
Czech
English
Farsi
French (expanded)
German
Greek
Hindi
Indonesian
Japanese
Italian
Malagasy (rainforests)
Malay
Portuguese
Portuguese (Brazil)
Romanian
Russian
Spanish
Slovak
Ukrainian



Key pages

About Madagascar
Maps
FAQs
People
History
Flora
Wildlife
Birds
Fish
Frogs
Invertebrates
Lemurs
Mammals
Reptiles
Environment
Conservation
ANGAP
Parks
Educational
Media resources
Store
Madagascar Travel
About the site
How to help
Links
Contact

Photos



Lemurs

Frogs

Insects

Reptiles

Birds

Villages

People

Landscapes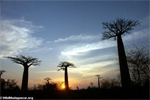 Flora
Other useful resources