Madagascar News

Loss of Madagascar's biodiversity is a loss for Earth, Pope says [09/09/2019]
- On a visit to Madagascar this weekend, Pope Francis denounced the "excessive" forest loss in the country.
- He was speaking at the presidential palace, during a courtesy call to President Andry Rajoelina.
- The pope also visited Mozambique before arriving in Madagascar, where he addressed the ecological disaster faced by the African nation after it was hit by two back-to-back cyclones this year.
- His seven-day tour which includes a day trip to Mauritius on Monday comes to a close on Tuesday.


Madagascar: What's good for the forest is good for the native silk industry [08/16/2019]
- People in the highlands of central Madagascar have long buried their loved ones in shrouds of thick wild silk, typically from the endemic silkworm known as landibe (Borocera cajani).
- With support from NGOs, traditional silk workers have widened their offerings to include scarves made of wild silk for sale to tourists and the country's elites.
- In recent years, the price of raw materials has shot up as the forests the landibe grows in succumb to fire and other threats, making it difficult for silk workers to continue their craft.
- However, where there are forest-management challenges, there is also opportunity: the silk business provides an incentive for local people to protect their trees. Some well-organized and well-supported community groups are cashing in on conservation, in spite of the broader silkworm recession.


Photo essay: Madagascar's disappearing dry forests (insider) [08/07/2019]
- Mongabay founder Rhett A. Butler writes about his visit to the dry forests of western Madagascar last month.
- The dry forest of western Madagascar is famous for its wildlife and baobab trees, including the tourist destinations of Baobab Alley, Tsingy de Bemaraha, and Kirindy Forest.
- Rhett traveled to Madagascar for the annual Association for Tropical Biology and Conservation (ATBC) meeting. Ahead of the conference, he used the opportunity to visit the Menabe region of western Madagascar to investigate some GPS points identified via Global Forest Watch's GLAD alert system as potential recent deforestation.
- This post is insider content, which is available to paying subscribers.


Baby whale wears a camera, reveals its travel and nursing behavior: video [07/25/2019]
- A video taken by a camera carried by a baby whale shows underwater nursing behavior from the calf's perspective.
- The CATS Cam camera used in the filming incorporates multiple environmental sensors, such as depth and temperature, as well as movement and acceleration by the calf.
- The unusual perspective may help researchers better understand the nursing process of a baby whale, including surfacing to breathe while its mother remains underwater and suckling from mammary slits on each side of its mom.


In Madagascar, villagers oppose plans for a dam that would inundate their land [07/18/2019]
- A dam project in Madagascar's central highlands, still in its planning stages, would submerge several villages, forcing hundreds or thousands of people out of their ancestral homes.
- Residents at risk of being displaced oppose the dam, and civil society groups argue that its potentially large size and social impact are not justified by the relatively small amount of power it would produce.
- The Italian company behind the project insists it's not yet clear if the project is feasible and has made no definitive plans to build the dam.


We are planting trees everywhere: Q&A with Madagascar's environment minister [07/17/2019]
- Alexandre Georget, a founder of Madagascar's first green party in 2008, is the country's new environment minister.
- In an interview with Mongabay, Georget discussed the government's reforestation plans and outlined how he expected to approach its 2019 goal of reforesting 40,000 hectares.
- He also described the government's new position on the sale of confiscated illegally harvested precious timber, in advance of the upcoming CITES meeting in August.


Study finds lemurs in degraded Madagascar forest skinny and stunted [07/15/2019]
- In Madagascar's Tsinjoarivo rainforest, adults of the critically endangered diademed sifakas living in the most degraded of forest fragments tend to be skinnier, and young individuals show stunting, compared to individuals living in more intact parts of the forest, according to a new study.
- Skinny bodies in adults could mean that their nutritional intake is compromised in the disturbed areas, researchers say, while young sifakas could be growing more slowly in the most disturbed areas in response to reduced nutrition in the diet.
- Sifakas living in less-disturbed forest fragments, however, don't appear to be in poorer health than those in continuous, intact forests. This could be because the long-lived sifakas are likely resilient to moderate habitat changes, the researchers say.
- But threats could add up and cause local populations to disappear, the researchers add.


Eat the insects, spare the lemurs [07/11/2019]
- To solve the twin challenges of malnutrition and biodiversity loss in Madagascar, new efforts are promoting edible insects as a way to take pressure off wildlife that people hunt for meat when food is scarce.
- Insects are widely eaten in Madagascar. They are also incredibly nutritious and one of the "greenest" forms of animal proteins in terms of their land, water and food requirements and their greenhouse gas emissions.
- One program is testing the farming of sakondry, a little-known hopping insect that tastes a lot like bacon. Another is setting up a network of cricket farms.
- Other attempts to reduce reliance on forest protein include improving chicken husbandry in rural areas.


Madagascar mine ignites protests, community division [07/02/2019]
- An Australian mining company, Base Resources, plans to break ground soon on a mineral sands mining project in southwestern Madagascar.
- Base Resources says the project represents a development opportunity for the region. It has the support of most government officials and local mayors.
- But local opposition groups have called for an end to the project, citing the negative environmental impact it could have and insisting that it's been made possible only through corrupt land deals.
- The battle over the project has played out in the Malagasy media for several years and is reaching a fever pitch as the project nears fruition. In the latest development, a Madagascar court released nine community members held for six weeks on accusations of participating in the destruction of Base Resources' exploration campsite.


Food choice leaves some lemurs more vulnerable to loss of forest habitat [06/26/2019]
- The gut microbes of some lemur species are specialized to help in digesting food found in their habitats, a new study has found.
- Lemurs are only found in Madagascar and the Comoros Islands in the Indian Ocean, and are one of the most threatened primate groups in the world.
- The study suggests the mostly leaf-eating group of lemurs known as sifakas, in the genus Propithecus, host gut microbes that are specialized for their diets and therefore less adaptable to food sources found in other habitats.
- Madagascar reports alarming rates of deforestation, losing 2 percent of its primary rainforest just last year, the highest rate of any country.


Science community rallies support to save Madagascar's natural riches [06/24/2019]
- Madagascar is set to host the Association of Tropical Biology and Conservation's 56th annual meeting in July.
- The organizers have launched a petition to garner support for urgent actions that must be taken to preserve the island nation's unique biodiversity.
- The petition will be presented to the country's president, who has been invited to sign it and recognize it as the Declaration of Ivato, after the site where the meeting will take place.
- The document, available in four languages, can be accessed online until Aug. 2.


The mine that promised to protect the environment: A cautionary tale [06/21/2019]
- In 2004, mining behemoth Rio Tinto made a bold commitment not just to protect but to "improve" the environment at its mining sites in ecologically sensitive areas around the world, through a strategy it called "net positive impact."
- A site in southeastern Madagascar where it was opening an ilmenite mine amid a gravely threatened coastal forest that's home to unique species found nowhere else on the planet seemed like a good place to start.
- A little more than a decade later, however, the initiative was dead: facing financial headwinds and falling behind on its pledges, Rio Tinto abandoned the NPI strategy in 2016.
- In an article in the July issue of Scientific American, Mongabay contributor Rowan Moore Gerety tells how Rio Tinto came to make that promise and then to renege on it — and describes the result for Madagascar's coastal forest and the people who live there.


A four-year ox-cart ride around Madagascar: Q&A with Alexandre Poussin [06/20/2019]
- Alexandre Poussin and his family recently completed a 5,000-kilometer (3,100-mile) oxcart ride around Madagascar, visiting sanctuaries for the island's unique biodiversity that are off the beaten path.
- Poussin witnessed firsthand the destruction of Madagascar's forests and the threat faced by endemic species found there.
- The French traveler and writer is encouraging tourists to the island to help protect its natural heritage.


Deforested areas bleed heat to nearby forests, drive local extinctions [06/17/2019]
- Forests play an important role in cooling the Earth.
- Deforestation doesn't just contribute to temperature increases where it occurs but also in adjacent forests, according to a new study.
- This leaking of heat into adjacent forests puts species living there at risk by pushing up temperatures that are already rising due to climate change.
- This is bad news for countries like Madagascar, which not only hosts many endemic species with limited habitat, but also has alarming rates of deforestation.


Lemur yoga: Fueling the capture of wild lemurs? (commentary) [06/03/2019]
- In April, the BBC published a fawning article about an English hotel that is offering lemur yoga classes featuring endangered ring-tailed lemurs. Knowing full well that this media coverage would negatively impact lemurs living in the wild, we contacted the BBC, hoping to mitigate the damage.
- In today's digital age, every lemur kept in captivity, either in Madagascar or abroad, is fueling — directly and indirectly — the illegal extraction of lemurs from the wild.
- Not a week goes by without more news of the precipitous decline of Madagascar's biodiversity. And while it will take tens of millions of dollars to protect what is left, refusing to engage in exploitative encounters and sharing your lemur selfie online is a good place to start.
- This post is a commentary. The views expressed are those of the author, not necessarily Mongabay.


A Malagasy community races the timber mafia to save its forest [05/10/2019]
- The Vohibola forest is one of the last remaining primary forests along Madagascar's eastern coast, supporting a large variety of endemic species found nowhere else on Earth.
- Under a renewed contract finalized this week the responsibility for its management was delegated to Razan'ny Vohibola, an association of volunteers from four surrounding villages.
- The task of protecting the forest, which is rapidly disappearing because of illegal logging, pits the local protectors against not just the timber mafia but also officials whom the villagers allege are complicit.
- Members of Razan'ny Vohibola were arrested in April on charges of aiding the illegal logging allegedly at the behest of corrupt officials, but released after the central environment ministry intervened.


Conservationists call for lasting ban on trade in Malagasy precious timber [05/03/2019]
- Precious rosewood and ebony has been plundered from Madagascar's forests for decades, threatening the survival of these hardwood tree species.
- Recent regulations have led to the Madagascar government accumulating a stockpile of the illegal precious wood, whose fate remains undecided.
- A new paper calls for species in two genera, Dalbergia and Diospyros, to be placed in Appendix I of the Convention on International Trade in Endangered Species of Wild Fauna and Flora (CITES), an international treaty regulating trade in threatened species.
- The move would ban all trade in the precious wood and thwart an attempt by the government to legalize and sell off the existing stockpile.


That Malagasy forest featured in Netflix's 'Our Planet'? It's vanishing fast [04/26/2019]
- Parts of the Netflix series "Our Planet," released this month, were shot in Kirindy Forest in the Menabe Antimena protected area in western Madagascar.
- It's a biodiversity-rich area that supports plant and animal species found nowhere else, including baobabs, lemurs and fossas.
- Between the shooting for the series in 2016 and its release in 2019, a large patch of the forest was lost, including areas where filming took place.
- This reflects a larger trend of deforestation in the area and in Madagascar, which is experiencing massive deforestation pressure.


The world lost a Belgium-size area of old growth rainforest in 2018 [04/25/2019]
- Newly released data indicate the tropics lost around 120,000 square kilometers (around 46,300 square miles) of tree cover last year – or an area of forest the size of Nicaragua.
- The data indicate 36,400 square kilometers of this loss – an area the size of Belgium – occurred in primary forest. This number is an increase over the annual average, and the third-highest amount since data collection began.
- Indonesia primary forest loss dropped to the lowest level recorded since 2002. Brazil's numbers are also down compared to the last two years, but still higher than the 18-year average.
- Meanwhile, primary rainforest deforestation appears to be on the rise elsewhere. Colombia recorded the highest level since measurement began at the beginning of the century. Madagascar had the highest proportion of its tropical forest lost in 2018; Ghana experienced the biggest proportional change over 2017.


Singapore acquits trader in world's biggest rosewood bust, worth $50m [04/19/2019]
- On April 8, Singapore's highest court acquitted a businessman who brought Malagasy rosewood valued at $50 million into the city-state in 2014, one of the largest wildlife seizures in the history of the Convention on International Trade in Endangered Species of Wild Flora and Fauna (CITES).
- The move reversed the ruling of a lower court that had sentenced the businessman to jail time and imposed $1 million in fines for importing protected wildlife.
- The court ordered Singapore authorities to return the rosewood to the businessman and his firm "as soon as practicable."
- Environmental groups have been looking on anxiously as the case wound its way through Singapore's courts for nearly five years, only to be disappointed by the final verdict.



Notifications

Get notifications on conservation and environmental issues in Madagascar. Subscribe for free.





Overviews - by language

Arabic
Chinese-simplified
Chinese-traditional
Croatian
Czech
English
Farsi
French (expanded)
German
Greek
Hindi
Indonesian
Japanese
Italian
Malagasy (rainforests)
Malay
Portuguese
Portuguese (Brazil)
Romanian
Russian
Spanish
Slovak
Ukrainian



Key pages

About Madagascar
Maps
FAQs
People
History
Flora
Wildlife
Birds
Fish
Frogs
Invertebrates
Lemurs
Mammals
Reptiles
Environment
Conservation
ANGAP
Parks
Educational
Media resources
Store
Madagascar Travel
About the site
How to help
Links
Contact

Photos



Lemurs

Frogs

Insects

Reptiles

Birds

Villages

People

Landscapes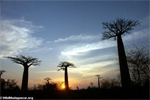 Flora
Other useful resources